The right rubber flooring for your project
Rubber flooring is characterised by maximum resilience and slip resistance; it is also soft and springy underfoot and may therefore help ease pressure on joints. The rubber flooring's high bulk density and resilience ensure outstanding impact sound insulation.
At the same time, it is amazingly low-maintenance and hard-wearing, making it especially suitable for the medical, public and sports sectors:
schools and universities
sports halls
hospitals, care homes, doctors' surgeries
airports and railway stations
production facilities
Rubber flooring has a long service life
ARTIGO rubber flooring is characterised by its attractive range of colours and a wide range of different designs. Rubber flooring with a smooth or reflection-breaking surface from the PLANSYSTEM range is as much a part of the product range as classic tiles with studded, slate or hammered surface embossing from the STUDSYSTEM range. The special PRO and TXL surface treatments offer more protection from dirt as well as reducing water, energy and detergent consumption.
As the rubber flooring's surface is extremely dense, it has hardly any pores, in which dirt could penetrate. Even solvents and alkalis cannot harm a rubber flooring.
Rubber flooring for living areas
Rubber flooring is also gaining ground in the housing industry and is finding its way into living rooms. Kitchens and bathrooms, in particular, are areas where rubber flooring is increasing in popularity because it is hard-wearing and so easy to clean. Its impressive impact sound insulation and slip resistance also make this flooring ideal for homes with boisterous children.
More flooring from objectflor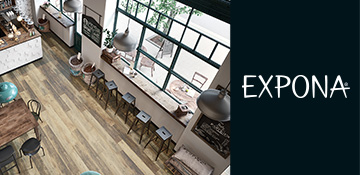 Discover our EXPONA Design floors – for the residential or retail sector.
To the Collections