Design Flooring, Rubber Flooring, and Technical Vinyl Flooring from objectflor
Our position: The specialists who support you
When it comes to the sale of resilient floor coverings, we have long years of experience to look back on, but as a modern company we have our eyes on the future too. Our floor coverings meet the highest quality standards, creating a combination of innovative design with top functional performance. Our highly skilled external service and our wide network of specialist dealer partners mean that we can guarantee maximum customer proximity together with expert advice and care. Only when you are happy will we be happy too. Perfect performance and tailor-made service are our top priorities. We are of course also TÜV certified!
Fastest possible delivery times thanks to the modern central depot.
Maximum customer proximity thanks to a universal network of specialist dealer partners
Floor coverings combining innovative design with top functional performance
Certified by TÜV to ISO 9001:2015
Expert advice from our internal and external service
1989
It was on the first of January 1989 that objectflor Bodenbeläge GmbH launched into business. The founders, Eberhard Lotz and Rolf Heinrich, were two sales and marketing professionals with a wealth of experience in the floor covering sector.
1996
In 1996 objectflor was purchased by Halstead, a family concern operating on an international level. Rolf Heinrich parted from the company, while Eberhard Lotz remained on board, and, together with Mark Halstead, developed the company to what it has become today.
1998
objectflor takes over the marketing concern Karndean International GmbH. The two companies are brought together under one roof, with their product collections continuing as before.
2002
With the takeover of SaarFloor-Systems the product range is extended to top quality rubber floors.
2008
This year saw the departure of Eberhard Lotz passing the sceptre on to Stephan Wolff, who had joined the company in 2002 as the then Managing Director of SaarFloor-Systems. objectflor took on the exclusive marketing for Germany and Belgium of products on behalf of the famous Italian concern ARTIGO, so extending the rubber floor sector by another top quality collection.
2010
The takeover of the Armstrong Riverside Works in Teesside by the Halstead Group meant that the way was open for the development of new heterogeneous floor coverings. The development of a new segment in compact coverings could begin.
2012
The Eifeltor Logistics Centre in Cologne is constructed, winning the Gold Award from the German Sustainable Building Council. As well as this, the EXPONA DOMESTIC product range is extended by a CLIC design floor covering for the domestic sector.
2014
objectflor celebrates 25 years of company history
2015
Centennial celebration of James Halstead plc, and extension of the EXPONA range by the innovative design-led continuous vinyl flooring EXPONA FLOW.
Floor coverings from objectflor: Always something better
We are constantly working on the development of new decors, sensing new trends, and making them a reality in the form of attractive and functional floor coverings, whether these be vinyl floor coverings or rubber flooring for the commercial sector. We always want something better – for you.
Delivery within 48 h in Germany
Delivery of samples within 24 h
Realistic space impressions on the Web - Design studio
Online media database
Construction & installation-relevant documents available at any time
Planning support through CAD service
The Polyflor brand - subsidiary of James Halstead Flooring - specialises in the production of vinyl floors. The production facilities are located in Whitefield and Riverside Teeside UK.
Our commitment is backed by our social responsibility. And we take that very seriously indeed!
Our Responsibility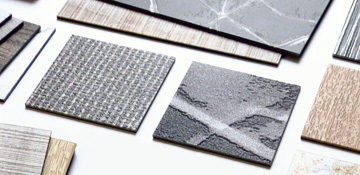 We are constantly working on the development of new decors, sensing new trends, and making them a reality in the form of attractive and functional floor coverings
To Product versatility